Bids" REL="nofollow" TARGET="_blank">'; echo '
'; break; } case 2: { /* LinkShare: Sale4TheDay */ echo '
'; echo '
'; echo '
'; break; } case 3: { /* LinkShare: Beez */ echo '
'; echo '
'; echo '
'; break; } case 4: { /* LinkShare: DealDash */ echo '
'; echo '
'; break; } case 5: { /* LinkShare: DealDash other pic */ echo '
'; echo '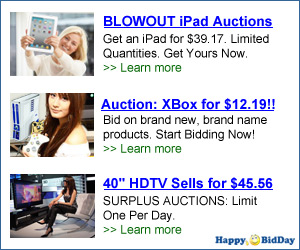 '; echo '
'; break; } } ?>
Privacy Policy
Consistent with current government policy and legislation, we support fair information handling practices. Any information provided during the use of the www. web site, including identification of individuals, will be used only for the purpose intended and where this purpose requires confidentiality, the information will be kept confidential unless required by law.
Web site "cookies" and logs are used for statistical purposes and to customise the user experience on this site. No attempt will be made by us made to identify specific users or their browsing activity. De-identified data from these logs may be used to update and improve our web site and to report to the operator and/or owner of this site.
You can choose to selectively or completely disable cookies in your browser settings. However, the latter may affect how you are able to interact with websites including the ability to login to accounts and services.
If you would like further information, please contact the authors of this site at the "Contact Us" or "Managed By" address provided.
Disclaimer
You should not rely on the contents of the www. web site without first obtaining advice from a qualified professional. Any information contained on this website is made available for the benefit of persons interested in the subject matter and with the understanding that the authors of this web site are not responsible for the results of any actions you take based on the information contained on this website nor for any error in or omission from that information.
If you link to this web site, we will not be liable for anything done or omitted to be done caused by or in connection with you linking to this web site.
The links provided on the www. web site are provided for the benefit of interested persons and with the understanding that the authors, operators and/or owners of this web site are not responsible for the content or any other aspect of these links.
Disclosure
Some of the content on the www. web site may be from external entities that have a commercial relationship with the web site author, operator or owner. Third-party advertising companies may use information from cookies and web beacons (but not including your name, address, email address or telephone number) about your visits to this and other websites in order to provide advertisements about goods and services of interest to you.
Any examples on this web site can illustrate best or worst-case scenarios; some persons may have received a benefit for providing a testimonial or may have chosen to use a pen name.
(Last updated May 2015)