eHealth Web Services understands the web services and communications needs of the e-Health industry well – we have been creating and managing healthcare industry web sites for more than 10 years. We provide a comprehensive range of web presence services.
eHealth Web Services ("eHWS") is part of DigitalHealth & HL7 Education Partners, a leading Australian specialist e-Health consultancy focusing on healthcare systems, interoperability and messaging. Since 1999, we have established a comprehensive track record in successfully working with large and small e-health organisations and consultancies both locally and overseas.
eHWS focuses on functionality and utility of the web presences that we create for our clients, as we believe that eHealth organisations and practitioners should "practice what they preach". Our web presences provide user self-service editing capabilities, RSS news-feeds, e-mail lists, "Members-Only" areas, etc. The presences also include Web 2.0 features such as Wikis and Blogs as well as fully integrated Twitter and Facebook accounts.
If you have any questions or would like a free consultation on your web site, please call 1300 337 164 (+61 1300 337 164 from outside Australia) or e-mail Info@eHWS.com.au
The "Multi-Path" Electronic Marketing & Promotion System
In response to the requests and needs of local businesses, eHealth Web Services has developed the "Multi-Path" Electronic Marketing & Promotion System. "Multi-Path" enables small and medium businesses ("SMEs") to easily communicate their products and services directly and quickly to focussed groups of their current and future customers/clients.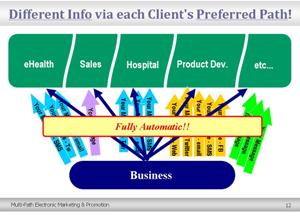 The information is communicated to each customer/client using their preferred method of contact, eg. e-Mail, Twitter, SMS, Facebook, Fax, etc.  Targeted and useful updates delivered via their preferred communications path results in much better customer/client responses to your offers and promotions!  The "Multi-Path" System requires minimal investment and no extra work for your business!
Your customers and clients today expect information to be served ("pushed") to them. They do not have time or patience to search for your latest information, offers and promotions. The information must be relevant to them and targeted at their interests – else they will see it as "spam". The information must also be very timely – monthly newsletters are "stale" and just not good enough any more!
The information, offers and promotions that are today getting results are personal and timely:
Hi Mary, we have freshly baked Cinnamon Rolls for you from 8am this morning! Golden Waves, your Local Baker
Fred, just in: Steel wheelbarrows, inflatable tire, 2-year warranty – $79.00 this weekend only. John's Hardware, 750 Pittwater Road
Dear Robert, 2-for-1 Chinese Banquet tonight only – SMS or phone me before 6pm to confirm your booking. Wang – Imperial Garden Restaurant
Melanie & Thomas: A 3-bedroom recently renovated beach-style home with pool just listed in North Avalon at ~1.8m. Call me on 0412 345 678 to inspect. Michael, Coastal R/E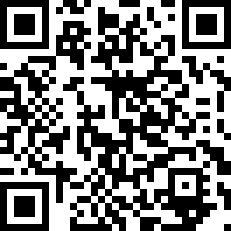 The "Multi-Path" System allows you to send out information, offers and promotions like this to all your customers/clients with no additional effort. We use the information, offers and promotions that you are currently creating in your current system or advertising. The "Multi-Path" System does not require a large up-front investment and is self-maintaining.
In summary, the "Multi-Path" System enables your business to easily and regularly:
Reach all your current and prospective customers/clients using their personal communications preferences
Reach clients/customers you do not have the time and/or resources to regularly communicate with now
Engage with your current and prospective customers/clients and position yourself as an trusted adviser/expert with authority by providing regular and timely information and advice in areas that each of your clients is interested in
If you have any questions or would like a free consultation on the "Multi-Path" System, please call 0403 116 367 or e-mail Info@eHWS.com.au